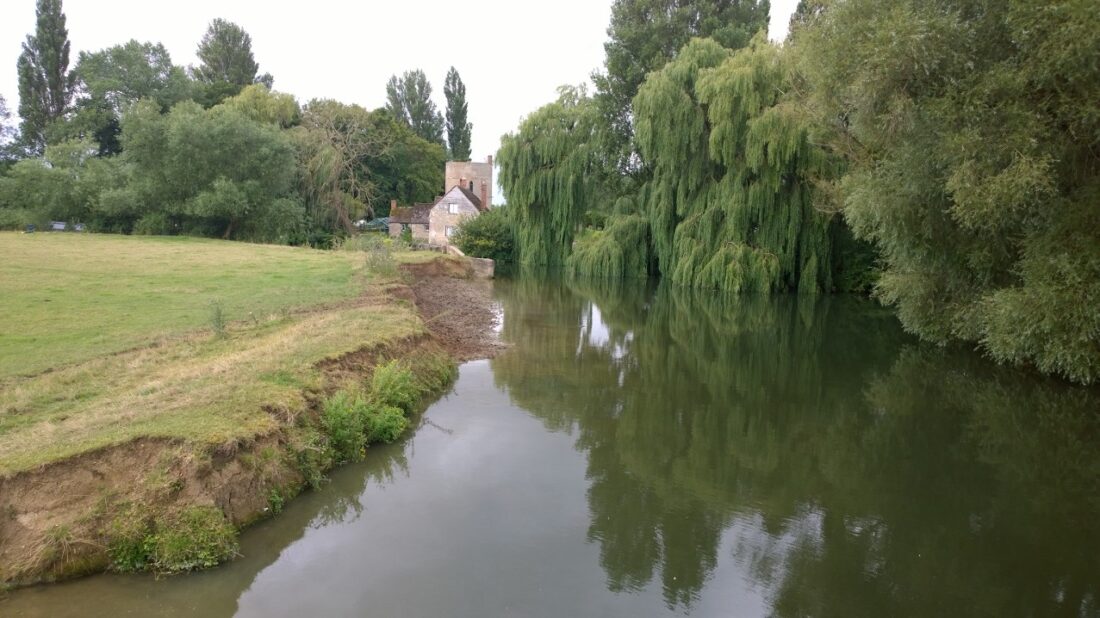 29 Jul

The Navigation – A new walking trail for the Cotswolds

The Navigation – A new walking trail for The Cotswolds

We arrived in the southern Cotswolds with a 60% chance of lunchtime rain, but we were excited, undeterred and prepared. Two sturdy storm proof umbrellas (do give them a try) were strapped firmly to the outside of David's rucksack.

Inside the rucksack the tools of our trade. A dictaphone, maps, notebook and camera as well as some items that well, just make life on the trail even more enjoyable – a picnic and coffee.

David and I love these trail creating days. After all, it captures perfectly what Foot Trails is all about. The anticipation, adventure, discovery and enjoyment of places new. Even though David and I have been walking in South West England for 25 years, and exploring even more deeply with Foot Trails for 15, we always find something new.

As for the weather, typically British. I love days like these too. When a short sharp shower descended from the heavens, almost bang on queue at lunchtime, we stopped on the banks of the river Thames, stuck up an umbrella, got out our sandwiches and enjoyed it.
The laughter, sheltering under the thin (but effective) stretched fabric, as big drops fell into the river creating circlular patterns. As soon as it started it stopped. The clouds parted, blue sky appeared and out came the sunshine.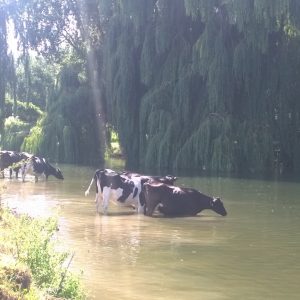 Slightly downstream a small group of cows decided it was time for a swim and drink and stepped confidently down and then out into the river.
A comedic line of young Swans, (number three in line was not happy with the position of swan number 2) floated downstream, a good 8 or 9 in number.
At a safe but stately distance, what seemed to be a parent glided by with grace and beauty, showing them all how it should be done.
Today's new trail focused on The Thames and market town of Lechlade. Almost all of us are familar with this mighty river which flows of course to London. Here, however, we could enjoy the wiers, curves and flow of the river with a backdrop of countryside, bull reeds and tall swaying grasses.
We were spellbound by the discovery of an 11th century church on our trail. Opening the heavy (and beauitufl in itself) wooden door, we stepped down into a simple, church with a medieval feel. Ancient wooden pews with small doors. Faded paintings on the walls. I noticed how the light from the window shone down in a stream onto a wooden chair by a piano.
Over the years we have found places like these with prescence, atmosphere. And I guess the real joy was that, that day, we had no other purpose. Than to explore, discover, record and write, so we may inspire you to walk a similar journey. It is exciting to imagine the feet which will tread this same journey after ours, and fun to imagine the memories which will be made.
"The Navigation" is the name of Foot Trails brand new 8 mile trail in The Cotswolds.
Discover the story of this world famous river in its peaceful and magical countryside setting of The Cotswolds. How it once carried stone and cloth from The Cotswolds to London.
Enjoy villages, and plenty of opportunities to see wildlife. We saw muntjac deer, buzzards, hares and fish.
For more information about our new trail or for advice or help to enjoy a Cotswolds Foot Trail of your own, please contact our expert team of Trip Planners, David Howell and Support, Julia Morrish on +44 (0) 1747 820 626 or email enquire@foottrails.co.uk
Best Wishes Alison Howell