Our Team
Please meet our team! Say hello. We're proud to be a small rural travel and walking company and we're totally focused on delivering world class walking experiences through South West England.
Alison Howell
Founder, CEO, Experience Director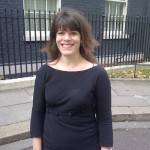 Alison's passion and vision for world class, sustainable rual walking has taken Foot Trails from a home based start up to a successful, award winning, company with a growing team in Bath.  Today she oversees our direction and team, development and marketing whilst still working closely with husband David to create our walking experiences.  Alison has had the privilege to receive one of only 20 scholarships available in the UK to study under world renowned professors at the Kellogg School of Management at the North Western University, Chicago, Illinois USA. And Alison has recently studied international trade, making several visits to the USA.
Alison is proud of her country roots as a farmer's daughter. This, she says, has made her practical, resourceful and determined as well as instilled a love of nature.
David Howell
Trail Creator, Delivery, Sales & Travel  Manager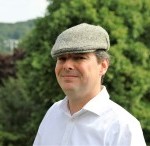 David enjoyed a high pressured career in retail buying and travelled the world before Alison persuaded him to give it all up and share the dream full time for Foot Trails. Over the past 17 years David has been a part of the exploration of South West England creating our unique, local trails, exploring new areas and researching local stories and legends with Alison.
David grew up in the Cotswolds where he would often be found raiding the best wild plum trees or walking the hills with the family dog Meg. He loves the freedom of walking. Space to breathe and slow down.
Recently David has become our Delivery, Sales and Travel Manager, overseeing day to day life at Foot Trails and he loves trip planning, where his expertise on the trail assists guests to plan the trip of a lifetime.
Katie Stinchcombe
Guest Liaison Manager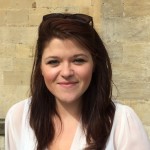 Once your Foot Trail has been created you'll be introduced to Katie as your sole point of contact,  in the run up to your trip. Katie loves managing our customer service, working closely with guests before you arrive and also during your Foot Trail if needed. With experience in travel and events,  Katie enjoys helping guests to take a trip of a lifetime.
Katie grew up in the Cotswolds, walking and biking with friends and family, following her roots into an education in wild and domestic animals, before taking to the skies and travelling the world.
Julia Morrish
Assistant to Trip Planning/Sales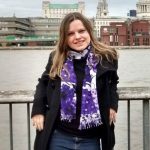 Julia joined us in February and assists our guests with trip planning and supports David. This includes booking accommodation in our handpicked country pubs and inns and also acting as one of the first points of contact for your initial enquiries. "I am very excited to be in this role as it allows me to help guests decide on the trip best suited to them, and together we help to create memories that will last a lifetime."
From a young age, Julia has always enjoyed walking and the outdoors, one of the main areas she frequented during childhood was Devon. As an adult Julia likes to go camping in the South West as well as taking Canal Boat trips and learning the art of opening and closing concurrent locks.
Adrian Tanner
Foot Trails Book Keeper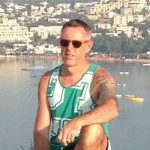 Adrian Tanner owns his own company Bloomfield Books and takes care of Foot Trails book keeping.
Adrian looks after Foot Trails drivers, accommodation providers and suppliers and ensures our partners are paid on time.
Sarah Callender
Website designer and support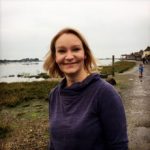 Sarah worked with us to create the Foot Trails website, making sure that it was clear and easy to use for our visitors. She now supports us with the everyday running of the website.
Sarah runs her own design business and enjoys working with growing businesses to make the most of their online presence.
Lynn Bann
Trail Co-ordinator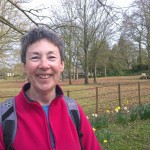 Lynne is a Trail Co-ordinator. Walking our routes and trails without a map to check the accuracy of our route directions. Lynne is passionate about the environment and is particularly interested in flowers, birds and animals. She has always loved walking and, having dogs all her life, been used to walking every day, in all weathers.
For Lynne, it has always been the best way to relax. Noticing the changes in the seasons, listening to bird song and watching wildlife being the best medicine to the stresses and strains of daily life.
She has now retired and moved to Wiltshire two years ago, previously living near Heathrow Airport. She still cannot believe she has moved to such a beautiful area with fabulous walking straight from her front door.
Julia Killick CBE
Trail Co-ordinator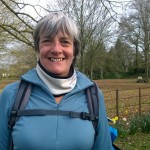 Julia is a Trail Co-ordinator. Walking our routes and trails without a map to check the accuracy of our route directions.
"Born and grew up in London ,where I met Lynn, prior to my career in prison service which brought me to Wessex, where I fell in love with the countryside and less frenetic pace of life. I love walking, travel, good food and wine. So retiring early to Tisbury in December 2015 with my husband I feel incredibly lucky to live in such a beautiful and friendly part of the world."
Molly! Team Mascot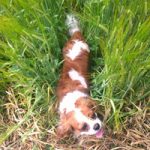 Molly our Cavalier King Charles Spaniel sometimes hangs out in Wiltshire with Alison and David and sometimes at our Bath HQ where she is our Team Mascot.
She's a pretty amazing companion on our recce trails and always up for a cuddle!
Save
Save
Save
Save
Save