Awards & accolades
Awards, what are they all about?
We are proud to be a small company with a big heart. But don't let our size fool you. Being independent enables us to set our own rules and standards and we are super committed to providing world class walking experiences and proud to have been called pioneers in rural tourism.  Awards inform us of our progress and indicate to you, just how seriously we take our hiking mission.
Since Alison Howell's Foot Trails began we have been honoured with awards and accolades for our achievements, and we continue to strive forwards. Here is a brief description of them and what they mean.
2019/2020
Words from our guests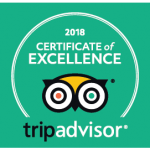 We truly value all feedback, both constructive and praise, but particularly those words of our guests. Please read our latest reviews, over on our page on TripAdvisor. This year we have been awarded a 2019 Certificate of Excellence from Trip Advisor.
Guest feedback on Trip Advisor
August 2019
SLos Angeles Times features new Devon walking trip Devon Creek to Coast Inn to Inn
We're thrilled that the prestigious Los Angeles Times Travel section has featured Foot Trails new Devon Creek to Coast Inn to Inn walking trip in its paper. Following the story of the river Dart from its creeks to the sea, this new trip has a watery story from creek to sea.
February 2018
Silver award – South West England Excellence – International Visitor Experience of the Year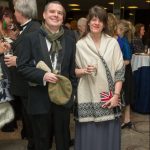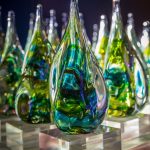 From a record breaking 645 entries it was with immense pride that we received the Silver award in this category at a glittering black tie dinner in Torquay. We thoroughly enjoy welcoming guests from around the globe to experience our English Foot Trails and the award recognises our commitment to our international guests.
December 2017
Foot Trails finalists in South West England Excellence – International Visitor Experience of the Year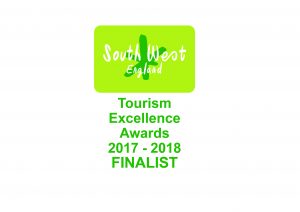 From a record breaking 645 entries we are thrilled to be announced finalists in these regional awards in the International Visitor Experience of the Year category. We will be proudly representing Bath and the South West in Torquay on 1st February 2018 when bronze, silver and gold winners will be revealed.
September 2017
Los Angeles Times writes about Foot Trails new walking trail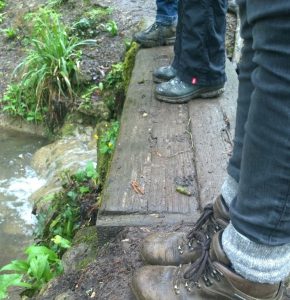 The prestigious LA Times Travel section has written about English Country Houses & Gardens, a new independent walking experience created by Foot Trails, in its 17 September issue. Combing walking trails originated by the expert Foot Trails team with some of the South West of England's most beautiful country houses and gardens, including the National Trust's Hidcote and English Heritage Wardour Castle, the new trip is a must for house and garden loves. Read the article here
http://www.latimes.com/travel/deals/la-tr-england-walking-tour-20170913-story.html
April 2017
Foot Trails is chosen to be part of Visit England's Year of Literary Heroes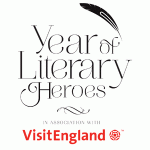 Visit England and Visit Britain have declared this year, to be the Year of Literary Heroes. Celebrating such literary greats as Thomas Hardy and Jane Austen, both of whom we are proud to feature in Foot Trails. And we are thrilled that Visit England and Visit Britain has included two different Foot Trails walking holidays in their suggestions for travel and tourism experiences that enable you to walk in literary footsteps – Tess' Journey Hardy Tales and Somerset Knights Quest on their website.  Look out for the Year of Literary Heroes logo, proudly displayed on our holidays.
2017
Green Tourism Business Scheme – 3 times Gold winner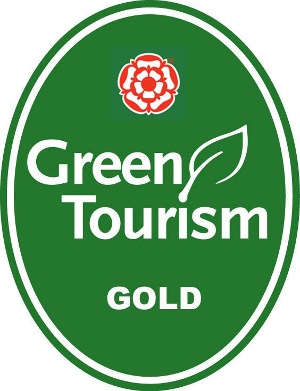 17 years ago green issues were uncommon. Anyone who spoke about them regarded as a hippy. Times have changed fortunately and being responsible is now regarded more seriously. We put ourselves forward early on for these awards, back in 2006 because we wanted to know how we were performing compared to everyone else as far as the environment was concerned.
We were the first in Wiltshire to join and achieve a Silver award in 2006 and the first to gain a Gold in 2009. We have since been awarded gold three times and the prestigious Gold Star as an Activity provider for achieving the highest score in a gold grading. Foot Trails has introduced over 60 measures with a positive impact in that time. Our work continues.
2016
Foot Trails chosen to support government launch of Exporting is Great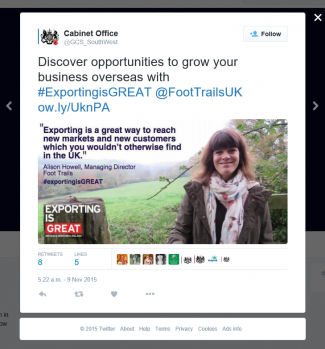 We were very proud to be selected to support the government launch of the new #ExportingisGREAT campaign.
We love to welcome guests from around the world and share our expertise and local knowledge of South West England with them as we create our highly personalised walking trips. Export is a journey we first began with some intent in 2012 with UKTI SW.
Foot Trails features in a new infopicture supporting the campaign and a new film.
You can watch the film by clicking on this link directly below
2016
Foot Trails is recommended by The Huffington Post!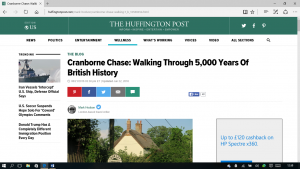 We welcomed Mark Hodson from The Huffington Post along onto our newest trail: Dorset Royal Chase. He enjoyed exploring the Cranborne Chase, staying at two of our wonderful partner inns and truly experiencing North Dorset in all its' glory.  And after experiencing a Foot Trail he wrote this terrific review.
Click here to see the full article.
March 2016
Visit Britain tweets about Foot Trails!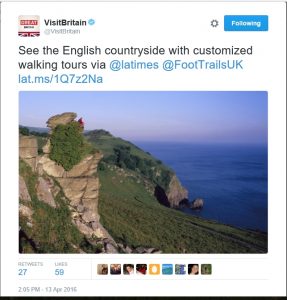 What a great accolade. Visit Britain tweet about Foot Trails recent success with having an article published in the Los Angeles Times, USA!
August 2015
Bath Business Awards – Business Person of the Year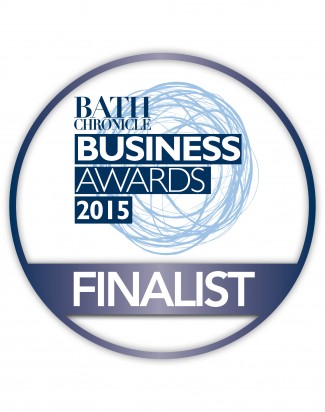 Alison Howell, our founder and CEO fought off fierce competition to reach the final three of the Bath Business Awards as Business Person of the Year for her work with Foot Trails.
September 2014
Foot Trails awarded one of twenty UK scholarships to study in USA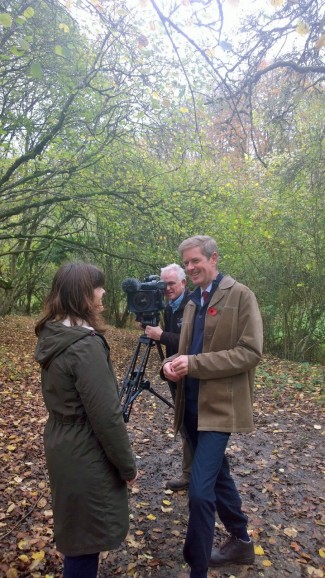 Foot Trails beat off stiff competition to be awarded one of only twenty scholarships available for UK businesses, awarded by the Department of International Trade, to win a scholarship to study "Working with Americans" and International business at Kellogg, the prestigious management school at North Western University, Chicago, USA.
Founder Alison Howell spent 2 weeks in America and whilst at the school studied with some of the world's leading professors, looking at USA economics, marketing, US law and developing professional relationships with Americans as well as culture.
May 2014
Visit from Deputy Prime Minister Nick Clegg

Our apprentice James and I were introduced to Nick Clegg last week during his visit to Bath at the Co-working Hub where we work.
Nick Clegg walked around the Hub meeting several members and I was delighted when he stopped to talk to me about Foot Trails, when and why we started, how business was going and what our plans are for the future.
I don't think James will mind me saying that it was his first occasion meeting an MP and I was especially pleased I had the opportunity to introduce him as he had run back to the office especially from his day at college during his lunch hour, missing lunch as a consequence! And then had a run back before his lessons resumed! (Thank you Stuart Nelson for the pictures)
December 2013
Small Business 100 winner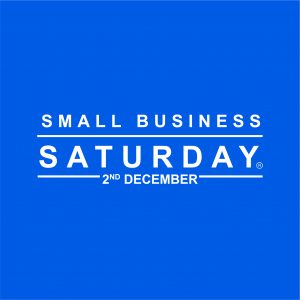 Foot Trails was immensely proud to be chosen as one of the 100 small business winners in the very first, inaugural Small Business Saturday campaign.  A campaign in the UK to highlight the success and contribution to the economy and local communities small businesses make.  Foot Trails was invited to a reception in Downing street and involved in media campaigns on radio and press.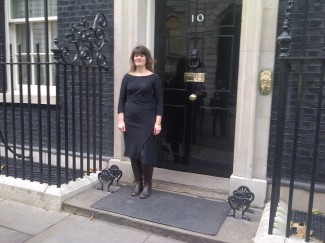 November 2013
Goldstar Activity Provider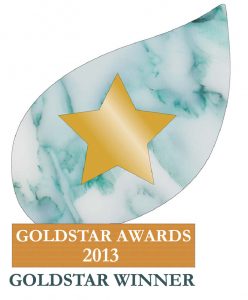 In November 2013 Foot Trails achieved one of the highest scores in a gold grading for an activity provider in the UK and Ireland and we were awarded the Goldstar award in Bristol by Earth Pilgrim Satish Kumar.
2011
South West England Tourism Excellence Awards
Silver – Sustainable Tourism Award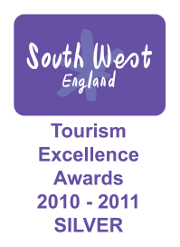 This was the second Tourism Excellence award we have received. It is a great honour to be acknowledged by your industry peers and in this instance for our work on sustainable tourism with rural English communities. A glittering night when walking boots were exchanged for heels and were presented our award by TV journalist and broadcaster Declan Curry of Working Lunch.
2010, 2009, 2008
Big Tick for Rural Action – Business in the Community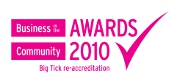 We all felt so proud (guests, the team, country inns and suppliers) to achieve this award and become the first UK travel company to be awarded the Big Tick for Rural Action. The award given to acknowledge our positive impact on rural communities and economies through tourism.
Foot Trails reached the top 5 in the UK in this category. David and Alison were invited to 10 Downing Street and the Houses of Parliament Corporate Responsibility Select Committee to share good practice.
Click here to watch a video of the day we celebrated with an oak tree planting ceremony
2007
South West Tourism Excellence Awards
Gold – Tourism Experience of the Year
When Gill, then Editor of the Sunday Express announced the winner of the Tourism Experience of the Year in Gloucestershire, Alison and David were happy yet in shock! It was such a huge honour to receive this award from Foot Trails tourism industry peers, and to be named the best of hundreds of tourism businesses in south west England.
2006
Country Living Enterprising Rural Women Awards
It was a gre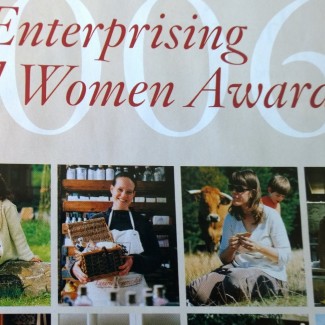 at honour for Alison to be named as one of the UK's most enterprising rural Women. Meeting the other winners and finalists at Hampton Court, Alison commented that it felt wonderful to be part of a set of inspiring women who are working to change and grow rural business in England. And her award was presented by Country Living Editor Susy Smith.