24 Sep

On the airwaves with BBC Radio Wiltshire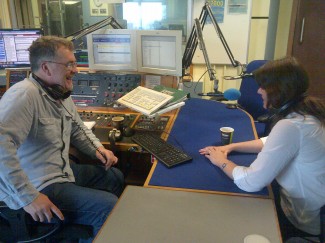 If you have ever wandered what it looks like at a radio station, here is a picture of one of the studios at BBC Radio Wiltshire in Swindon. As someone who isn't used to being in a studio every day it can be a busy place to be.
The presenter Mark O'Donnell (above left) has various screens and monitors in front of him with ever changing instructions and colour coded sections, there is a permanent news channel on the TV behind Mark with constant news updates he is monitoring, the Producer and presenter have regular chats and updates verbally about what's happening next, there is the clock to monitor to the second so Mark stays to time, the news or weather to cross too, more buttons than the starship enterprise, music to play and people popping in and out!
It's great fun though. I was invited into the studios this morning for a live interview talking all about Foot Trails, Wiltshire and walking and enjoyed meeting Mark and the experience very much.
I even got a nice cup of BBC tea!
Alison