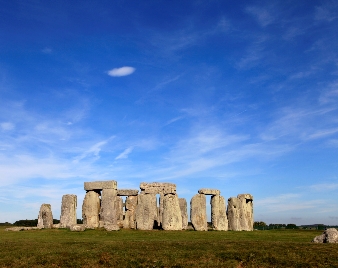 09 May

Foot Trails launches – Journey to the Stones

Debut walk – Journey to the Stones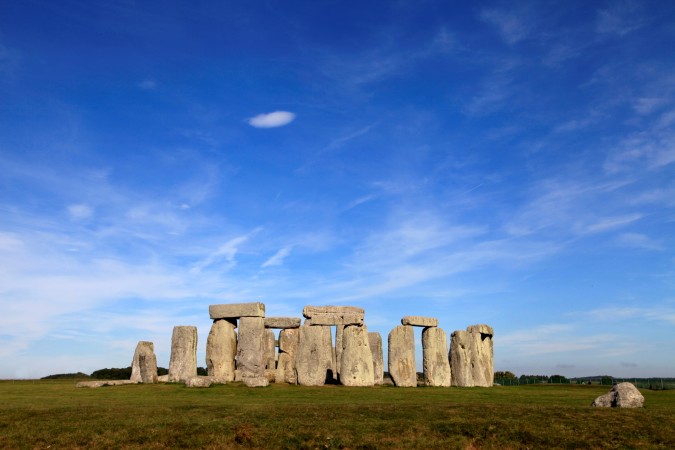 Three days of rain, heavier than we had seen for some time fell confidently in the days before Foot Trails debut Journey to the Stones guided day walk. Shame we said.
Then, on Thursday morning (Election day 7th May) as politicians braced themselves, down in deepest Wiltshire and Salisbury showers eased and the sun came out. And we prepared to launch a brand new experience.
It was a great start to what was to be a dry and sunny day for Foot Trails debut expert led guided day walk – Journey to the Stones.
David Howell met guests past and present including Kate Sibley who had taken one of Foot Trails very first guided walks 13 years ago and Sue who had been on Foot Trails most recent guided break earlier this year. Meme joined from Canada (via London) and we we also welcomed Kate Simon (former travel editor of the Independent on Sunday who looks after Foot Trails PR) and journalist and travel writer Ellie Ross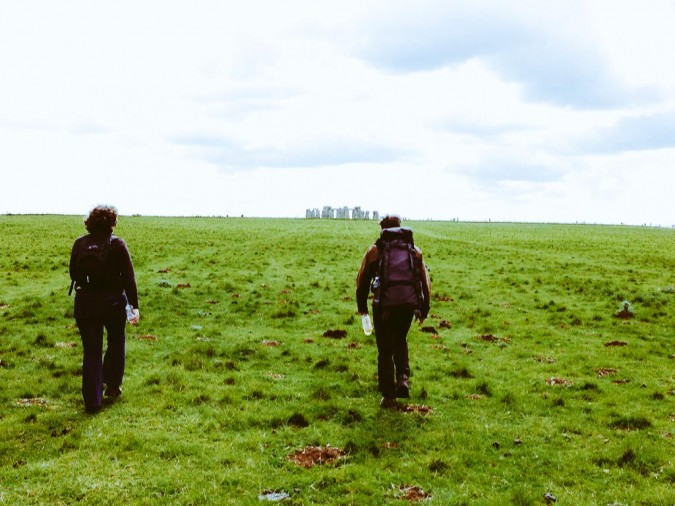 Above: Guests walk the ceremonial route towards the stones as our ancestors would have done 4000 years ago
For 8 miles the party led by Foot Trails Walk Director and local historian (and story teller) David Howell, had paths of breath- taking Wiltshire countryside to themselves. A ploughman's lunch with bread baked that morning, proper butter, Wiltshire ham and west country cheeses rewarded the party's morning's efforts before it was time to follow a ceremonial route first taken 4000 years ago towards those famous stones.
David has a secret love for Stonehenge and shared with the guests his views and knowledge on how the stones got there, why the site was built and how it was used.
A few interesting facts about Stonehenge
The site began about 5000 years ago as a simple earthwork
There are 83 stones all together
The largest stones – Sarsens weight up to an incredible 25 tons and came from the Marlborough Downs
The smaller Blue stones – 4 tons came from Wales
How did they get there?
What happened at Stonehenge?
How was the site built?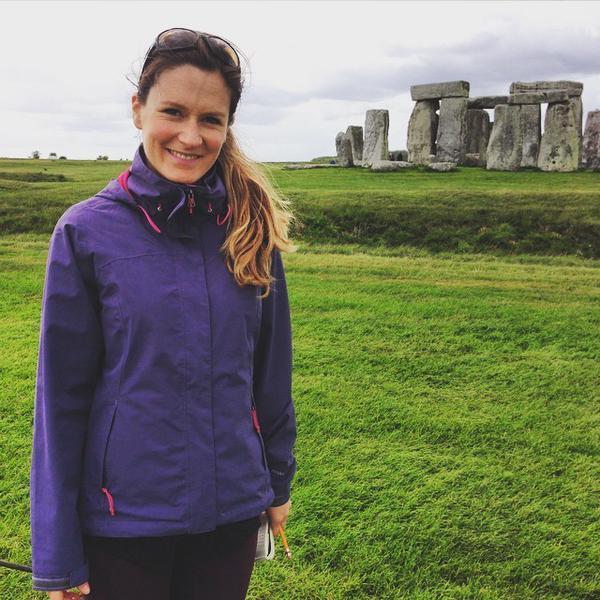 Above: Travel journalist Ellie Ross gets up close to the stones
Join us for a day of memorable walking and find out. The new expert led guided day walk – Journey to the Stones is available to book on the first Thursday of every month up until November.
Booking is essential and there are just six places available on each walk.
Tickets cost £75 person (£70 for previous guests) and include transport to/from Salisbury train station and the start of the walk, one day walking an 8 mile trail with David Howell, ploughman's lunch and entrance to Stonehenge.
Full details can be found on our website or email enquire@foottrails.co.uk