15 Feb

Winter walking in the Cotswolds this week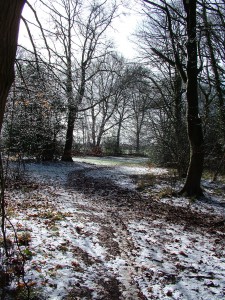 David has been out walking in Gloucestershire this week – but was this winter walk, at a time when Britain is in the media for its winter storms, what he would expect to find?  Read his special report below to find out.
Yesterday I headed to Gloucestershire to take an 8 mile walk on the edge of the Cotswolds hills.  Against the background of news about flooding (I am so sorry for those who are suffering at the moment) and a weather forecast that was less than appealing I really did wonder what I was in for.
Dressed for a forecasted wind chill of -2 'oC, prepared for rain and hail, and expecting to find flooded sections and fallen trees along the way, so I set out.
A snow flurry graced my start and gave a wintry look to the land, I descended into the woods and found a magical landscape.  Rich green mosses, old Cotswolds stone walls, ferns pocking through pockets of snow.
Within a mile the snow eased, the sun appeared and I was treated to blue skies, wispy clouds and views across the Severn Vale to the Malverns.  The path was wet and muddy, sometimes slippery but it was easy to  avoid the worst and make my through the woods.  I paused at an old 3rd century Roman Villa and the sun felt quite warm, I'd over dressed for the anticipated wind chill and was shedding layers!
Off on the trail again another snow shower was heading my way, walking in the snow was a delight, then through the grey and falling white, the sun pierced through.  Shortly after blue skies retuned.  I'd had a great time.
All this got me thinking, what are our expectations of winter in the English landscape?  Winter in England always is a bit of everything, sometimes sunny, sometimes raining, sometimes snowing, sometimes mild and sometimes freezing.  We never really know what we are going to get and that is an English winter.
The difference this winter, we are used to our weather changing, a battle between the winter warm Atlantic with the colder European zone, normally on a weekly / two weekly cycle.  To have had 4/5 weeks of the same weather does feel unprecedented.
But still it has not rained every day and not everywhere has suffered from the flooding.  So there are still days to get out there and explore, there is no need to avoid coming to South West England.  Our inns are open with fires a blazing, there are sunny spells to enjoy too, just come prepared for a bit of everything!
David
PS Enjoy more of David's photographs of his winter walk over on www.facebook.com/foottrails
We check our walking trails regularly and with expert local knowledge of South West England and the region and tailor made itineraries – we are well placed to advise you of the best places to walk whatever the season.