10 Apr

Speaking at the Wire National Conference yesterday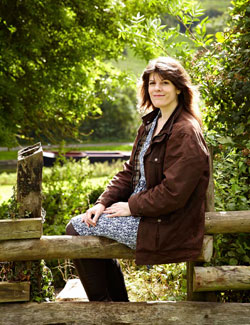 I was hugely excited to be speaking as an inspirational speaker at the Wire (women in rural enterprise) national conference yesterday at Harper Adams University in Shropshire.
For those who may not be familiar with Wire, it is a organisation set up to help support and encourage women in rural areas of the UK to create, start and grow a business.
The variety of businesses is wide and diverse. There are soap makers, chocolate makers, burger makers, consultants, accountants, lawyers, travel and tourism and service businesses.
There are start up courses providing essential and important information for those first starting out on their journey into business and enterprise (good idea) and the national conference aimed at helping those considering starting up but also those who have started. Perhaps to grow their business or create a fulfilling job.
11 years ago I was starting out in business for the first time with Foot Trails. An idea which had come to me as a flash of inspiration some years before that, after an 800 mile journey across France.
I was determined to shake up the tourism industry and show how fun, inspirational and indulgent walking could be. Foot Trails followed.
It would have been fantastic to have support from an organisation like Wire right back at the start. But it has played a key milestone in my own development.
So I was very honoured to take the floor and speak about my journey with Foot Trails. A journey which continues of course. In fact, I'd go as far as saying that it is the most exciting and fulfilling times I have ever experienced.
It made me really smile inside reading different messages sent to me after the conference. If this was a podcast you wouldn't hear yourself think right now. The buzz and atmosphere of fired up business women was electrifying!
Well done Wire. Well done for the effort you make in supporting rural business women. And for the part you have played in so many wonderful rural business stories.
Alison
For information about Wire visit www.wireuk.org