30 Mar

Space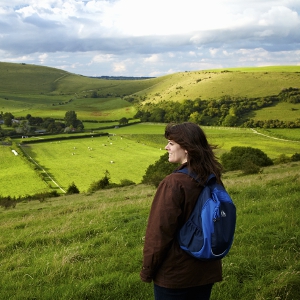 This blog is titled space.
And I have chosen this word because for me "space" is one of the joys I find when walking in the English countryside.
On days like today, I leave behind my desk, my phone and my computer and to a large extent the trappings of the modern wold, and I willingly and happily enter the world of the countryside.
Here, with technology and the fast paced modern world far behind I soon settle into the rhythms of the countryside.
All around me there is space. Room to move, to breathe. This is physical of course. South Wiltshire's chalk hills and valleys stretch out effortlessly before me. I can see for miles. There are villages here but none I can currently see in the view in front of me. There are curving hills, smooth valleys and trees. And the evidence of farming. A tractor ploughs up the earth and a New Holland combine harvester stands patiently waiting in the farm yard.
As my mind settles I find myself noticing more and more of the subtleties of the countryside. The almost constant sound of bird song is melodic and I start to pick out the song of different species of bird. With spring progressing the birds respond happily.
And in today's glorious sunshine the flowers also have a strong yellow theme. Daffodils burst out with confidence along roadsides, greens and gardens. Their trumpets poised to sound a song we never hear. And on grass verges and through the edges of the woodlands the Celandines seem to occupy every few centimetres and where there isn't a Celandine there are clumps of delicate Primrose.
In the hedgerows the buds are making their first appearances. Soon the twigs and branches will be full and covered with the season's new leafs.
In a world that is often busy and never stops, the space and pace of the countryside gives us all an opportunity to stop, slow down and reflect. And this is why I love to walk.