07 Jun

Sarah Wilson – hiking, sugar and Foot Trails

Sarah Wilson – hiking, sugar and Foot Trails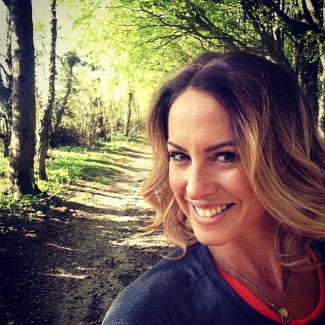 We received a request in April, could we arrange a walking holiday for Sarah Wilson?
Well of course we could. (pictured above)
Some of you may know Sarah as Australia's food and wellness TV host, journalist and blogger who is gaining appreciation world wide for her approach to quitting sugar.
Sarah has hosted MasterChef in Australia, edited Cosmopolitan and is now focused on devising tasty healthy ways to avoid sugar, a way of eating she discovered when attempting to find ways to tame her auto-immune disease. Read more on her site and blog www.sarahwilson.com
Our walking trip was to be a slower, calmer four days at the end of a busy tour taking in New York and London to talk about her new book "I Quit Sugar". She talks regularly of her love for walking and hiking as a way of taming her auto-immune disease in combination with her diet.
In her brief she wanted to walk from village to village, taste great British food and have the opportunity to enjoy time walking. I think the best way to hear about any experience of a guest on a Foot Trail is from the person who made the trip.
So you might like to pop over to this link below where you can read Sarah's account in her own words.
www.sarahwilson.com/2014/05/my-slow-hike-in-dorset-somerset-and-wiltshire-uk/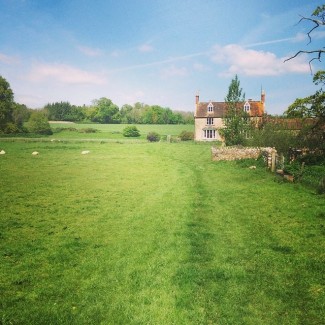 I met up with Sarah in Sherborne at the end of her Foot Trail to debrief and ask her a few questions.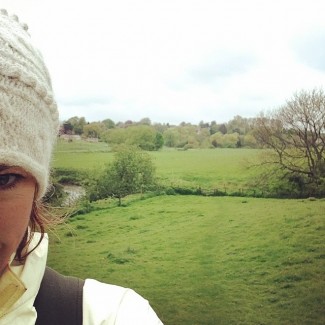 What do you love about walking?
Walking slows me down, it gets me grounded. After about two hours my brain switches off. I love the idea of going to a destination and enjoy following a map, it's so tactile. I also love the self sufficiency of walking, it's simplicity.
When walking there is no choice but to embrace what comes next and witness how the mind chunters away. Hiking is very grounding.
You're just launching your new book about your experiences quitting sugar, which is a guide for those who want to do it. So what snacks do you take when walking?
Well if I was going to eat anything it would be nuts, but I tend not to snack as a general rule or carry any with me. I have a big breakfast before I set off.
What was your favourite moment from your Wessex Ancient Kingdom inn to inn walking trail?
It was arriving off the ridge and into Somerset. The view was wonderful with a beautiful little village and the sun shining. (below)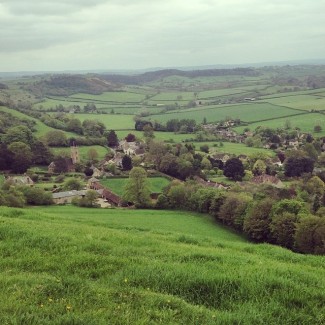 What is your over-riding memory of your hike in England?
Of an overwhelming prettiness, as well as a calibre of food that was far more local, whole and mindful than I'd expected. I really wasn't expecting that part of England to have such an informed foodie focus.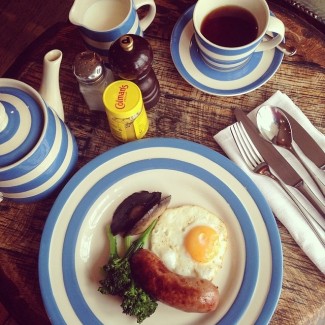 Have you a favourite aspect of English nature?
It's the dells!!! The whole trip I sang "Farmer in the dell". The pretty, smooth, slopes and the gentleness of it all brought out a joy in me.
Rain? What do you think?
You deal with it. It's England!!! All part of the experience and means that lunch at the pub is all that much more appealing. Ditto the bath at the end of the walk each evening.
You love food. What's your view of British food today? 
I think British food is in a brilliant place right now. Traditional British fare is naturally "whole", nose-to-tail and really unprocessed. Great quality meats and seasonal vegetables define British cuisine, all of which is exactly where foodie communities are heading. Lots is happening in London, but I love that it's naturally flourishing in tiny little pubs in tiny little towns in the middle of the Somerset or Dorset countryside!
The trip exceeded your expectations – why was that?
I expected a pleasant walk that incorporated some "off-road" experience. What I was so thrilled about was the variety of terrain and the fact that only about 5% of it was on paved roads. This provided for a really full adventure feel.
Sarah spent four days walking part of our Wessex Ancient Kingdom inn to inn trail we tailor made to suit. This trip takes you to the former ancient English Kingdom of Wessex, a Saxon kingdom. Today this includes parts of Wiltshire, Dorset and Somerset. Walking from village to village you can gain an experience of the beauty and history of this part of rural South West England whilst enjoying really delicious, proper good local food and drink on route.
From 4 nights to 10 nights, prices from £465 per person on a bed and breakfast basis staying in handpicked country pubs and country inns.
You can read more about the trip here https://foottrails.co.uk/walking_holidays/wiltshire/wessex-ancient-kingdom/ And request a free example itinerary.