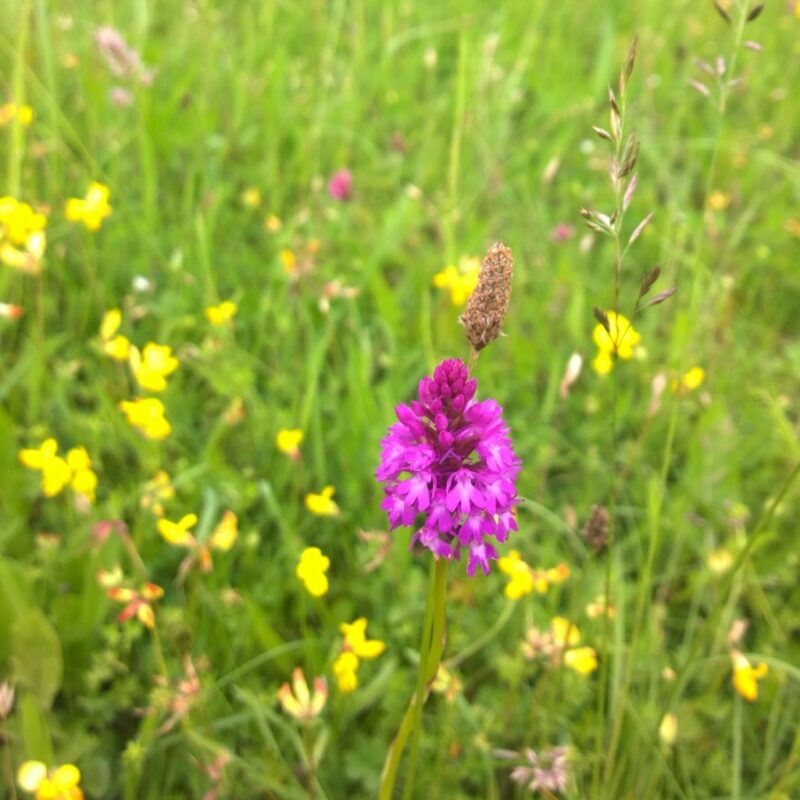 10 Jun

June – summer wild flower meadows, grasses & green-ness

The vivid pink colour of this beautiful orchid first caught my eye.

It was Saturday. In truth it had been quite a week and mid morning I was out on the downs, ankle deep walking in a beautiful wild flower meadow.

All around tall, tubular grasses swayed, bobbed and blew giving the effect of the field being a sea that was alive, swirling and fluid. It was helping calm my nerves enormously.

Looking down, the longer I looked the greater the number of flower and plant species I saw. There were buttercups, ever cheery and summery with their yellow petals. White clover, prolific, with their white pom pom flowers.  And stunning Pyramidal orchids with their cone like shape and, as mentioned earlier, wonderful vivid pink purple colour.

More wild flowers flower in June than in any other month of the year in England.  And many plants that do flower do so through the summer an on towards the autumn.

It's great fun to spot the different varieties and on some of our trails you will find a lovely little Collins Gem wild flower book in your Walk and Explore Box. Take it with you and see what you can find!

The names of the flowers in our meadows at this time of year are often wonderful in themselves. I've picked out here a few of my favourites to share with you:  Common-blue-sow thistle, Creeping Bellflower with beautiful little star shaped lilac flowers, Dog Rose, Lady's bedstraw and Love in a Mist.  See if you can spot them!

Back on my walk and the very activity of looking at flowers and grasses had succeeded in distracting my mind, almost without me knowing and realising only later! Walking on I soon came to the path edge where the view in front of me stretched out for some miles, at least 15 – 20 miles. Rolling hills, the distinct line and shape of Cley Hill. Once part of the Longleaf estate in Wiltshire it was formed by ancient seas (what a fantastic thought!).

Green-ness struck me in every gaze of view. Hedgerows, trees and growing crops. Green, deep green. It had a soothing effect upon me. Calming, still. Deeply pretty. England's green and pleasant land…

As I walked back towards the village that is both my home and provides my second Foot Trails office, the absent minded bleat of sheep came up to meet my ears. And the sound of a distant buzz, hum zing of a lawn mower, like a soft buzzing insect. Someone was tackling the recent growth of the grass and lawn.

By now my feet were moving me along almost by themselves and my arms were softly swinging, doing their own thing.

Walking is a funny thing I thought to myself. It's bought me here, up to the downs, out through the flower meadows and down into the valley. It's succeeded in taking me away from my day to day and given me the privilege of exploring another world. The world of nature, history, of ancient paths and stories and at this time of year, stunning wild flower meadows.

Stresses of the week were left somewhere up on that hill, not sure where, all I was thinking about now was breakfast. Coffee. And bacon…

Alison Howell, Founder, Director

PS For summer wild flower meadows, coffee and bacon (should you wish it) please visit Foot Trails website at www.foottrails.co.uk for an inspiring choice of award winning English walking trips.