11 Nov

Foot Trails wins UK GoldStar, Activity Provider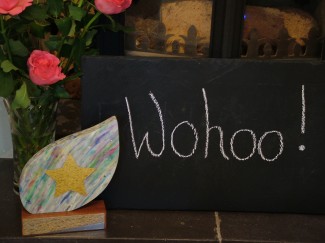 Wohoo is the word!
THE WORLD'S leading sustainable tourism accreditation programme has honoured Foot Trails as one of Britain's most environmentally friendly businesses at a prestigious national awards ceremony.
The 2013 Green Tourism GoldStar Awards saw more than 2,400 contenders whittled down to a shortlist of 61 businesses nominated for 15 awards and Foot Trails was declared overall winner in the Activity Provider category.
Now in their third year, the annual event honours those businesses and organisations that have done the most to promote sustainability within the tourism industry by implementing cost-saving practices that help the environment, improve customer services and benefit the bottom line.
Foot Trails win in the Activity Provider category was announced at the annual Green Tourism Conference held at the AT-Bristol Science Centre on 8th November.
All of the finalists were chosen from over 2400 green tourism companies assessed for their innovation, cost savings and green ambassadorship during 2012-2013.
The GoldStar award was presented to founder Alison Howell by Satish Kumar.
Satish said a green tourism business should be beautiful, soulful and profitable whilst being kind to the earth. But no Mother's Pride bread please – it's not mother's and there's no pride in it!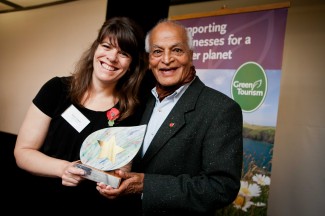 One particularly lovely phrase spoken on the day was that tourism is all about making dreams come true. And for the future it needs to be sustainable.
Travel and tourism for us at Foot Trails is certainly all about making dreams come true. And we do care about how we make that happen for you.
Alison said " Sustainable tourism is such a positive force. In rural England, the place where Foot Trails works, our journey with this approach means that we can help to create and support rural jobs, enhance guests understanding and appreciation of the landscape and provide an authentic experience whilst enabling this special way of life and place to thrive and evolve.
We are very honoured to be awarded with a GoldStar. And we are keen to continue our journey into sustainable tourism as we grow and help more people to explore rural England on foot."
Foot Trails was amongst inspirational company from all the businesses who won a GoldStar including Gylly Beach Cafe, Breacon Beacon National Park, The Broads, Scottish Crannog Centre, Once Brewed TIC Northumberland National Park, Rabbies Trail Burners, University College Durham University and Hedgehog Corner bed and breakfast.
Thank you for those of you who voted for us in the separate People's Choice award which was won by Malkin Tower Holiday Cottages. Congratulations to all.
Read more about Foot Trails story at https://foottrails.co.uk/our-story/