23 Nov

A picture tells a story of a thousand words

It is said that every picture tells a story. That a picture speaks a thousand words.

And I whole heartedly believe it to be true.

I set out this morning with two of my favourite things – my boots (which enable me to four wheel over mud and everything at this time of year) and my camera. These days attached to my I-phone.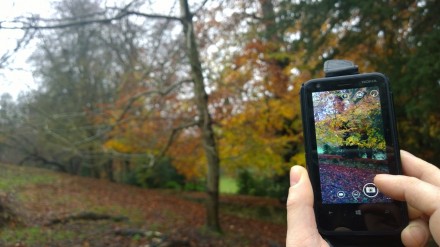 What a picture also does, which isn't talked about quite so much is reveal our mood and say a lot about our perception and view of the world at that current time.
Are we focused on light or shadow? Nature or architecture? Do we see colour? Are we looking up at the sky or down at our feet? A picture really does paint a story of a thousand words. I love to take a series of photos when I am walking. For fun. Often I will see something in an instance which makes me usually either gasp in surprise or smile with joy and before I know it the action to reach for my camera is quite involuntary.
If you do this too take a look at your sequence of pictures when you return and see if you can decide what story they tell. It's fun. And it's fascinating.
Here I share the pictures I took on today's walk. Which I have termed the majesty of autumn. The colour, texture and light out there this morning were extraordinary. Have a terrific Sunday and great fun with your camera when you are out walking.
Warmest Regards Alison