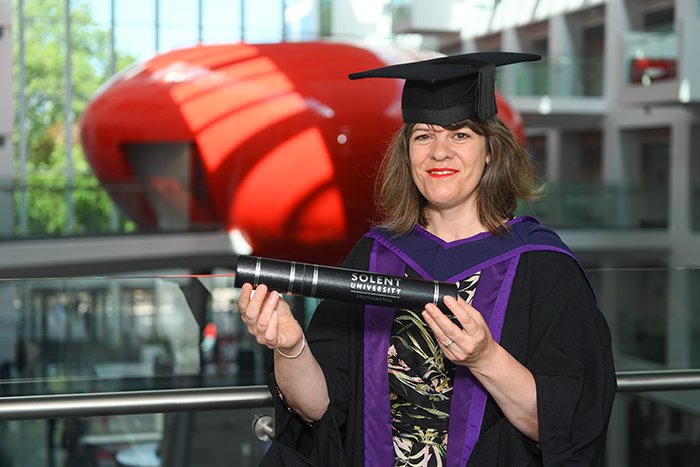 13 Jul

Foot Trails founder Alison Howell receives Honary Degree

Alumna and award-winning entrepreneur, Alison Howell, has been awarded the honorary degree of Master of Business Administration by Solent University today (Friday 12 July).

Alison grew up on a family farm in the Wiltshire countryside, spending most of her childhood outdoors surrounded by nature. At the time, she was unaware that her passion for the British countryside would go on to form the backbone of her entrepreneurial spirit and successful business career.
Alison came to Solent University in 1990 and graduated in 1994 with a BA (Hons) in Business Studies. After graduating, Alison was determined to gain more commercial experience and landed a role at one of the world's leading corporate businesses – IBM. However, shortly after joining, it became apparent to Alison that she was not suited to the corporate world and felt it was time to move on. Unphased and focussed on what her next challenge would be, Alison took a trip to France with her then boyfriend and now husband, David, spending three months together walking over 680 miles. It was this experience that was to change their lives forever and inspire 'Foot Trails', launched by Alison and David in 2002. A combination of Alison's passion for business and adventure, Foot Trails, is a travel business that takes its customers on walking adventures throughout the South West of England.
Fast forward almost two decades, and Foot Trails has gone from being a start-up business to an international award-winning company, spearheaded by Alison and David, and supported by a growing team in Wiltshire. Thanks to Alison's courage and determination, the business continues to grow in popularity and profitability.
Away from her duties at Foot Trails, Alison is incredibly well connected and continues to inspire others as an active member of the Institute of Directors and Wire (Women In Rural Enterprise. She was recently named as one of Insider Business Magazine's '42 under 42' entrepreneurs to watch.
Her natural flair for business has also been recognised at a ministerial level. Not only has Alison been invited to Downing Street twice to share her inspiring journey, she had the privilege of being awarded one of only 20 UK scholarships by the Department of International Trade for her outstanding business concept and growth plans. Alison has also been a finalist in Country Living's 'Women in Rural Business' Awards and Bath & Bristol 'Women in Business Awards'.
Commenting on her award, Alison said: "Life doesn't come without its setbacks, but these tough moments are what makes us who we are, and I certainly wouldn't be where I am today without them. I feel very privileged to receive an Honorary Degree from Solent University for my work in business, and I very much plan on being a role-model to those in their studies."