14 Jan

Enjoying the winter sunshine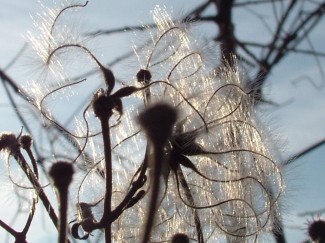 It feels like 2013 has already treated us to some gorgeous weather. Indeed we enjoyed a spectacular New Year's day of blue skies and bright sunshine, which was the perfect start to the year! We spent much of the day in the fresh air of the countryside exploring woodland surrounding a small village in Wiltshire.
We were out again in Wiltshire yesterday enjoying another wonderful day of uplifting winter sunshine and cold, clear, bright skies.
Which is where we saw these beautiful plants called "Old Man's Beard" in the hedgerows. In January what we see is the seed head. The long silky white tendrils giving the plant its affectionate name. It is also known as "Travellers Joy". It certainly raises a smile when you see it.
Hope you had a lovely weekend everyone, and remember, if you took your camera out with you on a walk in the countryside, please do post your photographs on our Facebook page for all to enjoy.