19 Jul

Dorset's Meadows weave their spell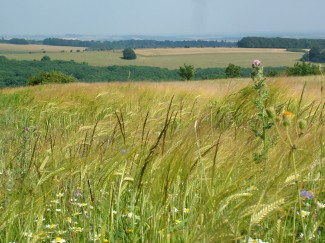 On a warm summer's day today when the sun shone brightly and our English skies were a dreamy blue, I took a short walk in North Dorset with David to check part of our trail on the Truly Madly Deeply Dorset and Wiltshire and Dorset Borders walking holidays.
It was difficult to image a more inspiring and beautiful set of scenes as those which I walked through. The barley (easily identified by its tall spiky ears) is turning. And as the occasional pushes of wind went through the crop there was a gentle swaying and a glorious rasping rustling sound- enough to soothe even the most troubled soul.
At the edges of the barley fields it was possible to pick out brightly coloured flowers which can be enjoyed at this time of year. The vivid and dramatic shock of blue that is created by the corn flower. The whites and yellows of the daisy. An occasional red poppy.
And then as eyes were lifted horizon bound, drawn by the far and lingering hills, views opened up and it was possible to see for miles and miles. North Dorset's landscapes inspired Thomas Hardy to write some of his best known work. And on a day like today it was certainly very easy to see how they might have done just that.
I left this area three years ago to live nearer to Bath. A place which makes me and my family immensely happy. But on a day like today, when the butterflies flit on the breeze and the meadow flowers bloom brightly, it is easy to wander why I left.