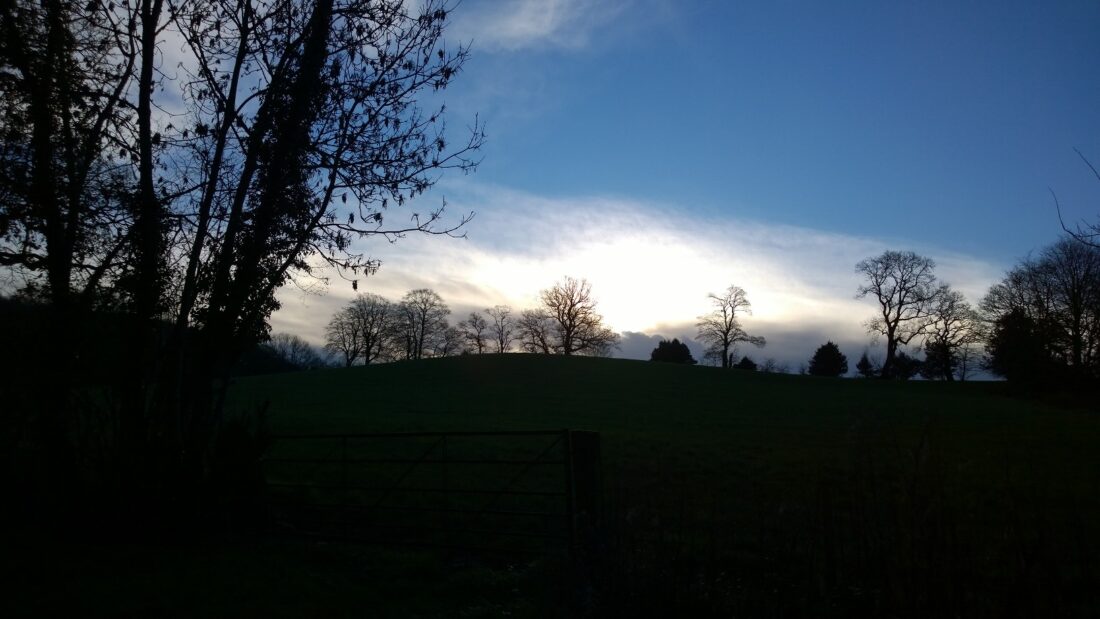 10 Jan

Behind the scenes as Foot Trails creates a new trail

A light, larger and brighter than a usual star shines brightly in the dark skies above Bath.

" Is that the international space station?" I ask David

Dawn was still to break as we headed towards Wiltshire by car with the purpose of creating a new 8.5 mile walking trail, Fables of Old England.

Dressed warmly we chatted about our intended route, debated a few possible sections of the walk and I ensured my phone was fully charged to take plenty of pictures.

To our left light streaked across the sky. And straight ahead dark skies looked moody.

Stepping from the car into a quiet and sleep village we lace our boots and begin to walk, a sense of anticipation.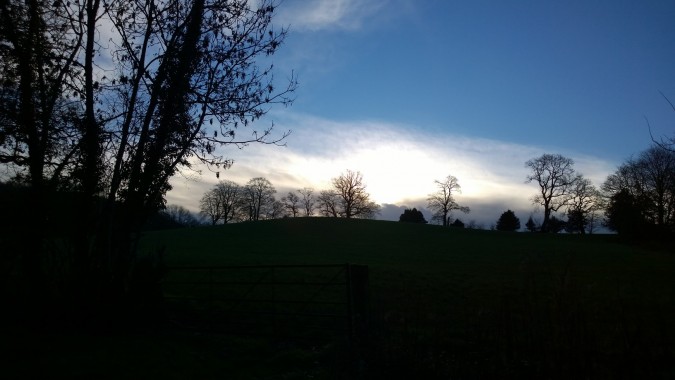 As we walk, light creeps further into the sky and the quiet, beautiful landscape of South Wiltshire grows increasingly visible.
We take a fast pace which is entirely usual when we are walking through a recce. We have a lot of miles to cover and at any point never know if a particular stretch we've planned may not work out and we'll have to double back and give it another go.
We don't expect our guests to walk this quickly!
Despite our pace, by now we are in a good rhythm and the beauty and natural surroundings have their usual effect. We chatter away together about our week and put the world to rights. In our experience thoughts, any troubles and ideas all get viewed and a good airing on a walk.
Arriving into the first village we keep our voices low as it's still early for a Sunday.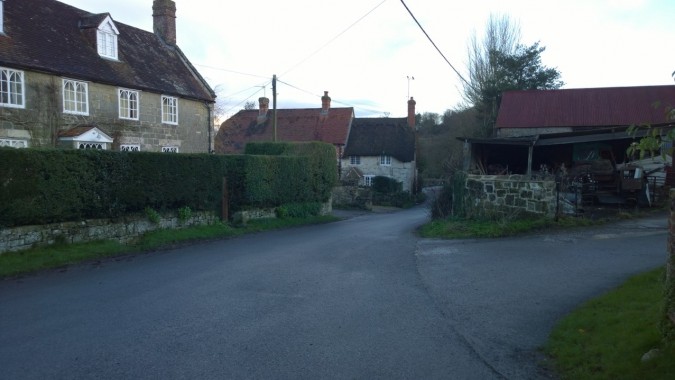 We admire the thatched cottages and enter woodland where straight lines of silver birch and bright green mosses create a pretty effect against the morning light.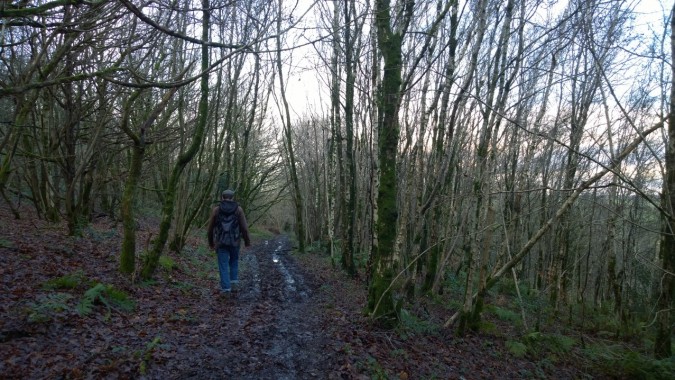 It's January and following recent heavy rains there is mud in places but we don't care and rather enjoy ploughing through it! Our walking boots acting like four wheel drive for our feet.
Descending a hill we spot a farm below where the herd are waiting to be milked. The smell of cows is a familiar one from my childhood and always takes me back in time.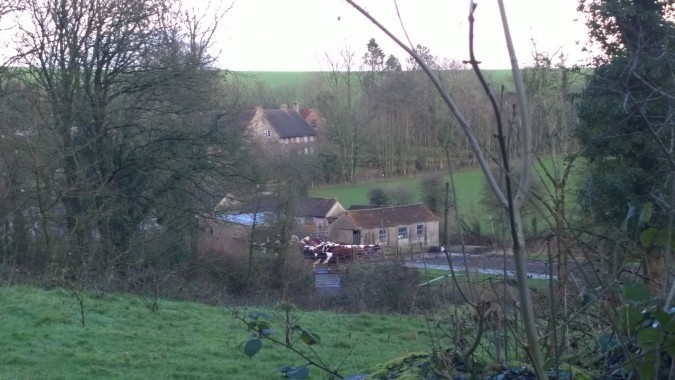 The farmer says we can take a photograph and we pause to admire what's happening in the milking parlour. The rhythmic splurp, splurp sound of the milking pumps fills the air and the cows relaxed and at ease stand in their pens and let it all just happen. The farmer is busy and works quickly and efficiently, probably been up for longer than we have.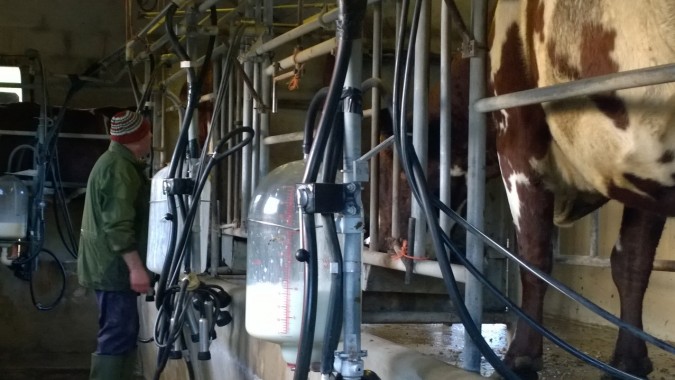 Our 8.5 mile walk will be a whole day out for our guests. We talk about and pool our history knowledge to write stories that will help guests better understand the area and significance of the places visible on our new trail. This trail is rich in history and there is a lot to discover and enjoy.
David checks the maps often to ensure we're on track. At times we debate possible routes.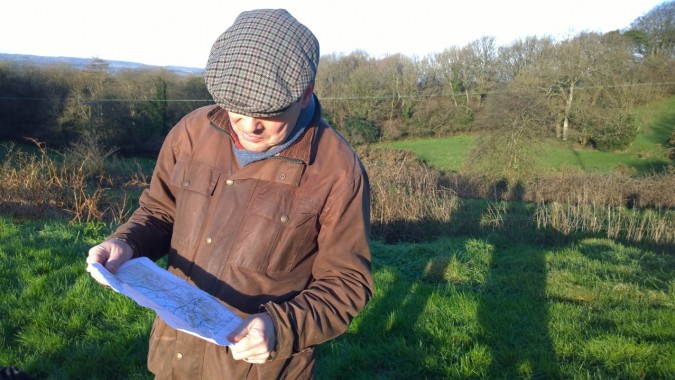 Eventually the dramatic views of the Blackmore Vale open up in front of us and even though we have seen this view many times before, we let out a quiet "wow". We can see for miles ahead and enjoy the curving shapes of the rolling hills. The skies are a deep blue. The grass a bright green. It's gorgeous.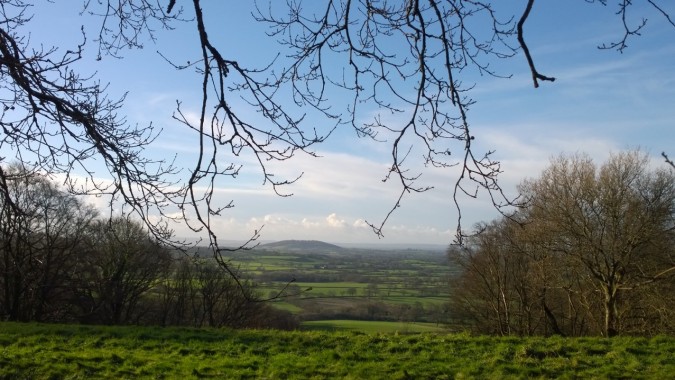 The sunshine begins to bring warmth to this January day. We keep walking but also want to keep stopping to take photographs! The light today is spectacular.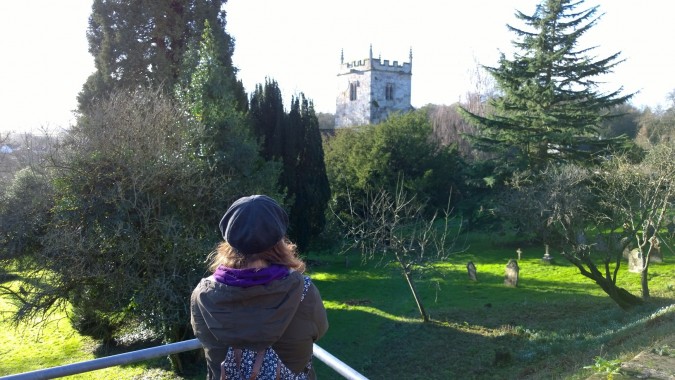 Fables of Old England is the name we have decided to give the trail and with scenes like these below on route it's easy to see why. Thatched cottages are common in this corner of Wiltshire and many of the cottages are several hundred years old.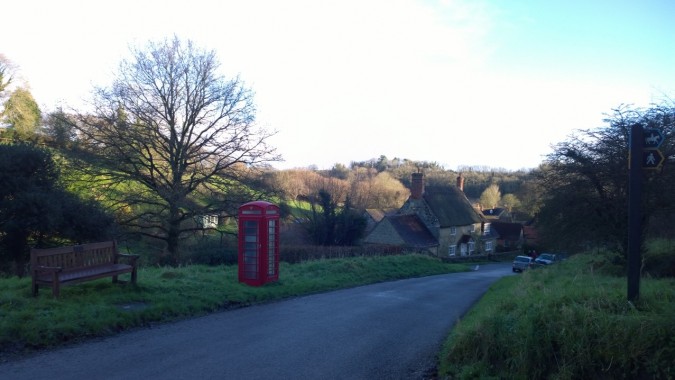 At the village where Christopher Wren (one of our greatest British architects most famous for building St Paul's Cathedral) was born we pause at the village shop named in his honour to buy coffee. Nothing is more welcome on a winter walk than a mug of coffee! David goes for an Americano and I a Latte.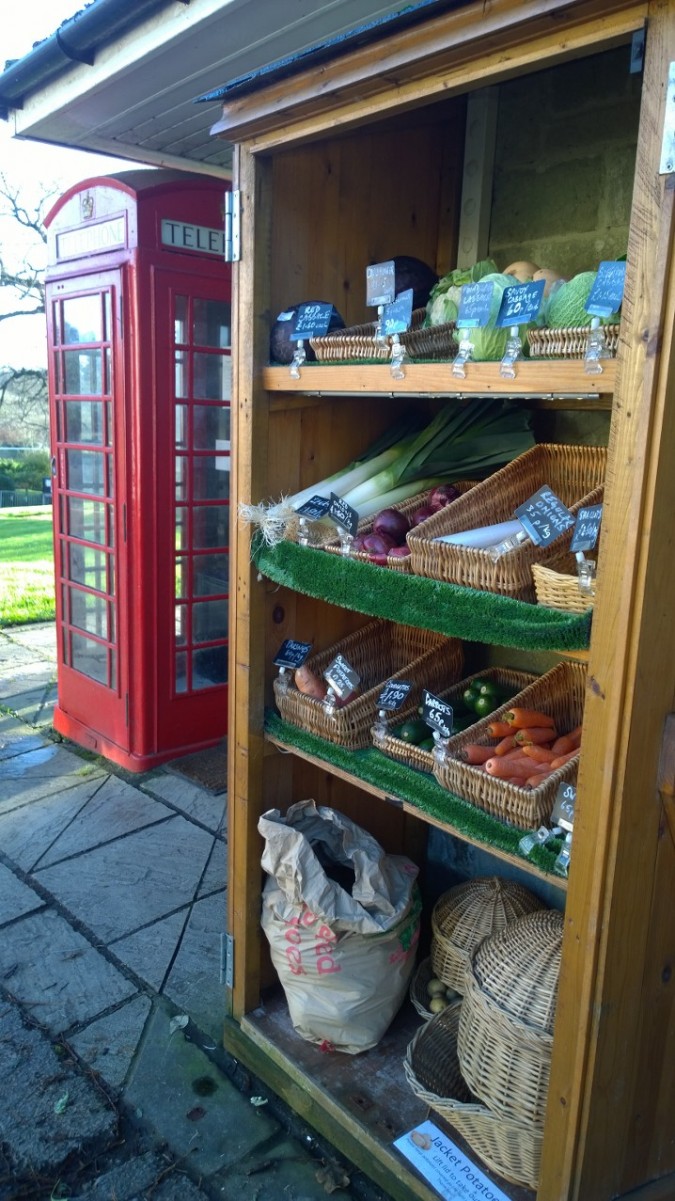 We love to weave in village shops where possible. They make great places for guests to buy a drink, cake or newspaper or stock up on a few supplies. The shop here is run by the community and thriving. Also very friendly and several people stop to chat with us.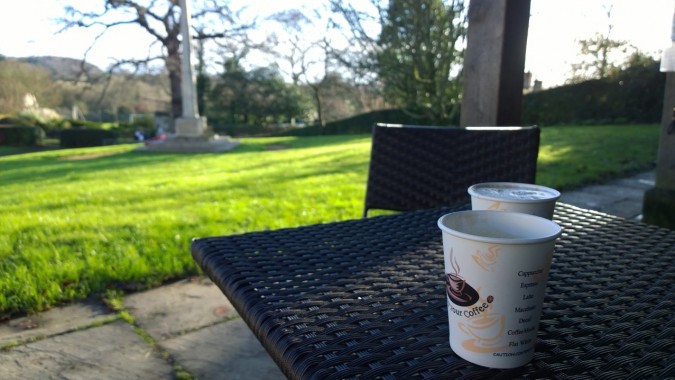 We take a few photographs and post a tweet or two whilst the connection is good.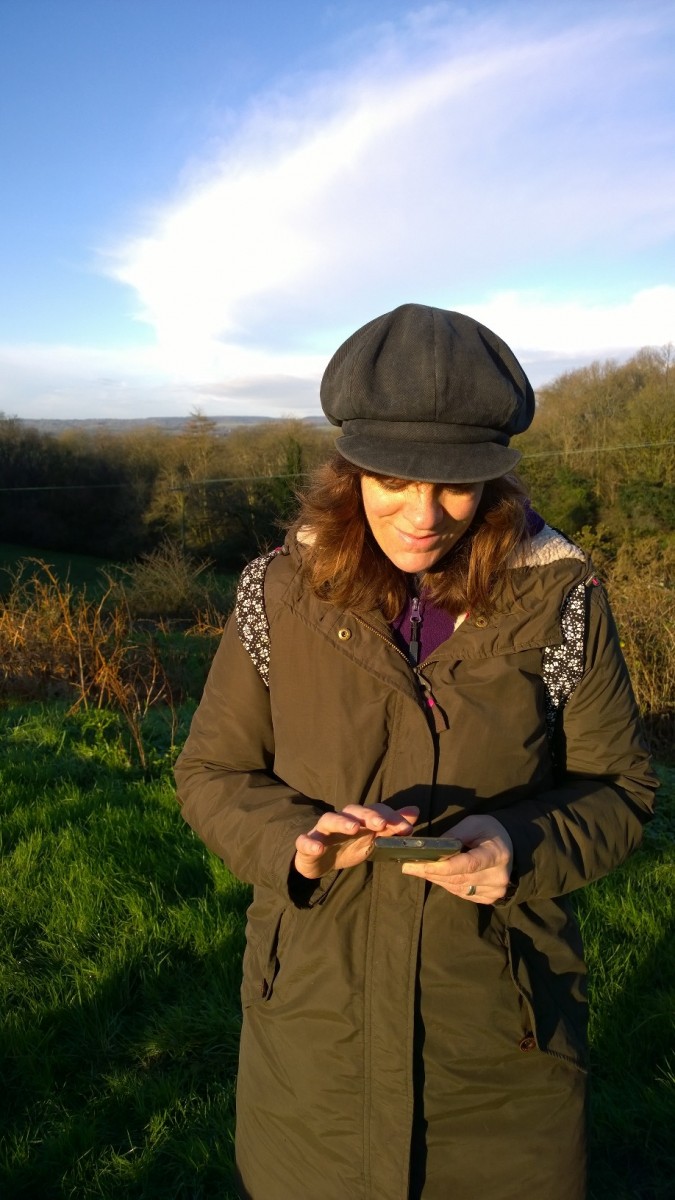 It's not easy to sum up such a wonderful experience in a few words and photographs. We've seen two sets of deer this morning, watched a heron take off, spied buzzards in the skies above, marveled as a sparrow hawk has flown in front of us and seen squirrels and pheasants.
We've found the countryside and paths peaceful and quiet (we know the best places to go!) and enjoyed the friendly conversation with locals at the village shop and pub on route.
We enjoyed seeing the farmer at work milking his herd and the pigs and cows, reminding us of the importance to consider where our food comes from and how it is made.
And we've watched the growing light from dawn to morning sunshine and every point in between.
We've walked through village, country lane, woodland and field. Our boots are muddy! Our faces rosy and our eyes bright.
We've spent 8.5 glorious miles exploring Wiltshire and loved every minute.
We feel a little coy saying this but it takes tremendous local knowledge and expertise in walking to create a really good walk and a Foot Trail. To consider the variety, mix of terrains and landscapes and the overall guest experience. Lunch is an important factor on any Foot Trail and we select each lunch stop on ours from our personal recommendation.
Feeling happy and content with our morning's work we set back to Bath to write up step by step notes for the trail which will accompany our local maps. This way we can start making Fables of Old England a reality that our guests can soon experience later in the year. We feel excited.
Alison Howell, Founder
PS To experience Fables of Old England for yourself, try our Wessex Ancient Kingdom or a centre based walking trip in Wiltshire and let us know this is a trail you'd love to try for yourself.