Alison's Story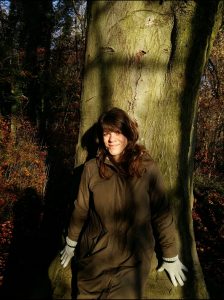 Alison is a country girl at heart with a passion for business and adventure. In 2002, frustrated by a lack of authenticity in rural tourism,  she decided to start and grow a walking and hiking trip and tour company in South West England.
Alison grew up in the countryside of Oxfordshire, Wiltshire and Buckinghamshire. She spent 6 years living in Bath whilst setting up Foot Trails HQ and recruiting her team and has now returned to the countryside of Wiltshire.
Her farming parents led self sufficient lives until she was nine, giving a simple traditional country upbringing. A self sufficient life is heavily work intensive so there was always jobs to do she recalls, whether the whirl of harvest time, picking and foraging for fresh food, growing fruit and vegetables, baking bread and cakes wood collecting for the fire, learning to sew.
Alison left the farm at 18  to persue business. She spent four years gaining a BA Honours degree in Business at Southampton Institute before starting work in customer service at IBM.
But big corporate life didn't suit.  Alison was told she was a maverick  – devastating at the time but clearly entrepreneurial tendencies! She decided she needed greater adventure and more freedom.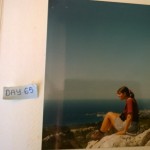 A three month walking adventure 680 miles across France with a tiny two man tent called Therese, a calor gas stove and one spare pair of socks provided the very opportunity and was to change the course of Alison's life forever.
Alison woke at dawn, walked all day and settled down for nights beneath the stars. Living in rhythm with nature she found to be a very inspiring and happy experience.
Returning to the UK Alison felt inspired by her adventures but remained frustrated by stereotypical images of walking and by a lack of authenticity in British rural tourism.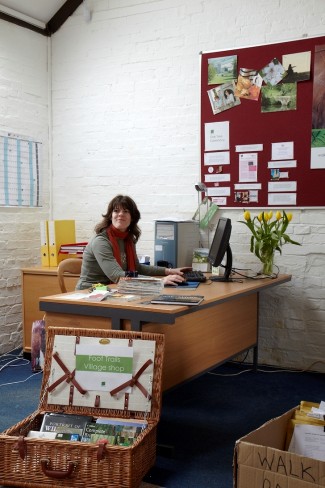 So after business development experience with The Children's Society charity and setting up the private hospital, Wessex Nuffield's first marketing department, with an "anything is possible" attitude she began Foot Trails in 2002 to exploit an opportunity based on authenticity and indulgence. Two things which had not featured previously in British walking experiences.
Alison now works with her husband and Operations Director, David and has grown Foot Trails from a small home based business into an award winning, company with a growing team in Wiltshire.  An adventure in its own right.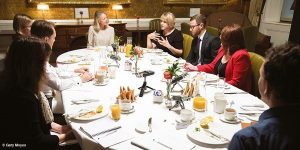 Alison is an active member of the Institute of Directors, Wire (Women in Rural Enterprise) and as a 42 under 42 (Insider Business Magazine's entrepreneurs to watch), is regularly invited to contribute to round table discussions and speak about business.
In 2014 she had the privilege to receive one of only twenty available scholarships in the UK from the Department of International Trade and studied under world renowned professors at the Kellogg School of Management, Northwestern University, Chicago, USA. This ingnited a professional and personal love of America.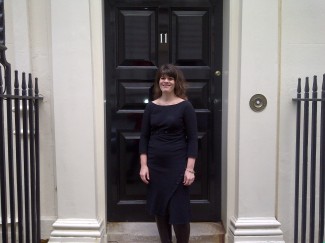 Alison has been invited to the Houses of Parliament and Downing Street to share good practice and represent small business. She has led Foot Trails to win regional and national awards including the UK's first travel company to achieve the Big Tick for Rural Action by Business in the Community and she has been invited to be a judge herself of the South West region's tourism awards.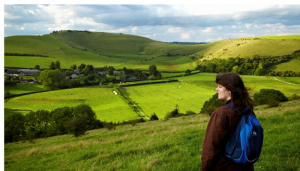 Alison enjoys speaking and motivating others and has experience addressing regional and national conferences and at round table discussions on topics such as starting a business and growing a business. She can be booked as an honest, open, engaging and motivating speaker on a range of business issues. Always interested in ensuring delegates take action to achieve their own success.
Alison has addressed young entrepreneurs and business and enterprise students at Cirencester College and Harper Adams University and in January 2017 was asked to become a "Country Living" Magazine Business Expert at their Start a Business workshops.
You must take time to hear Alison Howell speak; not only is she an inspirational business-woman leading the way for all women in business who want to "do it differently" but she is packed to the brim with integrity and a fabulous speaker. At the last WiRE national Conference she used humour and honesty to illustrate her business journey; which certainly has its peaks and troughs, and left the delegates with an overwhelming sense that you can set goals, stick to them and run a successful business. It is with great pleasure that we share news of her growing tourism business Foot Trails, as a trailblazer for all rural businesswomen – her success is richly deserved."
Fiona Davies, Director, Wire (Women in Rural Enterprise) 
When Alison isn't working she takes pleasure in being outdoors, enjoying the peace, space and freedom it brings.
She confesses to being a traveller at heart.  Equally happy for short spells in the largest of the world's cities where she loves the energy, restaurants and culture.
Alison has two children aged 19 and 15. She believes anything is possible with the right attitude and hard work.
To contact Alison please email enquire@foottrails.co.uk or call 01747 820626
Alison's Awards and Accoldades
2006 Finalist, Enterprising Rural Woman Awards – Country Living Magazine
2006 Winner, Wiltshire Life Business Person of the Year
2013 Small Business 100, Invited to Downing Street to represent UK SME's
2013 Insider – 42 Under 42 (Entrepreneurs and Business People to watch!)
2014 Winner, One of 20 available UK scholarships to study at Kellogg Business School, Northwestern University, Chicago, USA, awarded by UK Trade and Investment
2014 Finalist, Business Woman of the Year Bath and Bristol
2014 Met Deputy Prime Minster Nick Clegg as part of a visit to Bath
2015 Finalist, Business Person of the Year, Bath Business Awards
2015 Asked to support the government launch of Exporting is GREAT
2017 January – A Country Living Business Expert – Joining Editor Suzy Smith and business experts at the Build a Business Day
2019 July – An Honorary Masters Degree in Business Administration, awarded by Solent University